Ebony hasn't been the easiest of girls in our flock. She has always been a bit of a thug.
Ebony won't allow any of the little girls to be near her or especially the treats. She chases them and sometimes pulls a beak full of feathers from their backs as she does so.
But the worse thing is that she will squat over the little girls, pinning them down, while wiggling her behind. It puts me in mind of a cockerel. I have never had this behaviour in our flock before and sometimes Ebony is quite brutal with the little girls.
One of her other traits is trying to peck my legs when I give out treats. I have stopped using the, protective, frying pan cover and now simply raise my foot so that if she pecks it's the sole of my flip flop/boot.
Ebony also shouts the whole time Flame is in the nest box during the summer and she has a very loud voice when she shouts.
Ebony isn't an easy girl to love but I have felt that it is just something we have to rub along with.
But now we know someone who had three chickens and has recently lost one. She is upset that she has been left with only two. She is the landlady of our local pub and my husband has been looking after the pub garden since mid summer.
He asked her if she would like to take Ebony and she said that she would love to. We have said that we will take her back if it doesn't work out. Ebony should go from being top girl in our flock to bottom girl in her flock which should stop her being a thug.
My husband will be able to keep an eye on her and I will be able to visit her. It seems like a win win situation.
I am still hoping to get a couple of Hamburgs at the end of the year and integrating them will be much easier without Ebony. I think this move will make for a happier flock and the landlady of the pub will be happy to have three girls again.
Moving Day
We took Ebony to her new home and stayed for half an hour to see how it went. We opened the cat box and Ebony went quickly out into the run. At first the two girls and Ebony took no notice of each other at all.
A few times the light coloured girl gave Ebony a quick chase to show that she was top girl. The blue coloured girl stayed well out of the way. It looks like Ebony is going to be middle girl in this flock. The two girls have names but I can't remember the bluebell's name so will just refer to them by colour for now.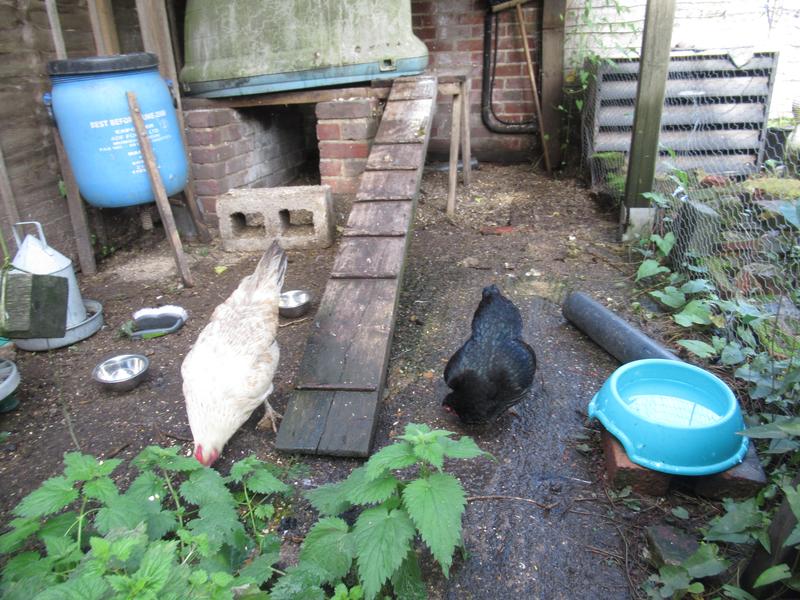 I couldn't get the bluebell in the photo as she was staying out of the way. The landlady is going to stay in touch by text. We have said that if it doesn't work out we will take Ebony back but after half an hour we all agreed that it was going really well.
K texted me a couple of times with photos of Ebony later that afternoon and said that all was still going well. She checked that Ebony found her way to bed at dusk. After the first night Ebony should get the hang of where to go.
K texted again in the morning and said all is still good and Ebony has been eating and had a treat of meal worms.
K has said that I can visit any time which I will be doing and we will be keeping in touch. I am optimistic that it is going to work out well.
One week later
We have kept in touch most days and we visited a week later. Everything has gone well.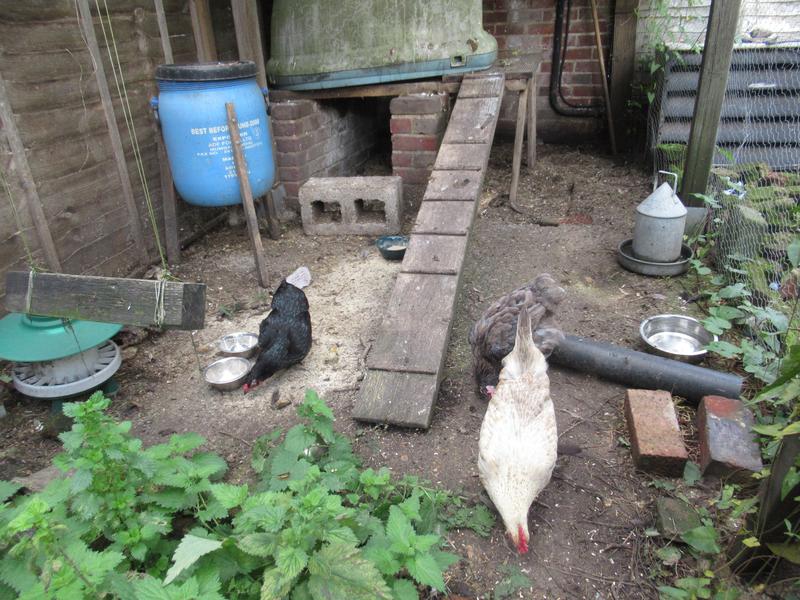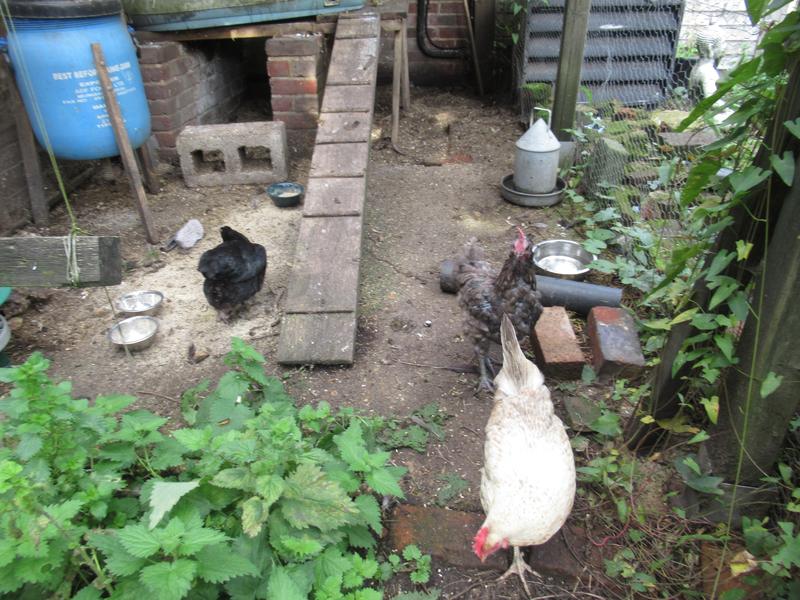 Ebony is doing all the usual chicken things and there is no bullying.
It is lovely when I give out treats to our flock to see all the girls share them together. Before the little girls had to wait until Ebony had moved away before they could have a chance.
Ebony is on an equal footing in this flock and the three of them share the treats together. Ebony is eating , scratching and perching with her flock mates at dusk. She also had a dust bath while we visited.
It has all worked out very well.