On Wednesday I thought that there was a slight improvement with Flame. On Thursday she seemed worse. She spent most of the first half of the day with her eyes closed and her head under her wing.
I decided that it was time to take Flame to the vet. I got an appointment for three o'clock.
When it was time to put Flame in the cat box she was enjoying a lovely dust bath with her right eye closed. I tried rattling the sunflower seeds and calling her but she was enjoying her dust bath so much that she ignored me.
I had to lift Flame out of her dust bath. She didn't shake herself so I stood her on the chicken's patio and tried my best to pat some of the dust off her. It doesn't work nearly as well as a chicken shake but it couldn't be helped as it was time to go.
The lovely vet put some drops in Flame's eye so that she would be able to see if there was any cut or scratch. She couldn't see anything. She lifted her eye lid and couldn't see anything there either.
The vet gave me some eye drops for Flame, Isathal, which is an ointment rather than liquid. The drops have a bit of pain killer in them too. The vet applied the first dose to Flame's eye while I held Flame steady. They need to be applied twice a day morning and evening but I could give Flame a second dose later that evening.
The vet asked me to call on Saturday with a progress report.
As soon as Flame was back in the run she continued her dust bath. After that she was pottering around the run and her eye was open. Flame looked as if she was feeling better already.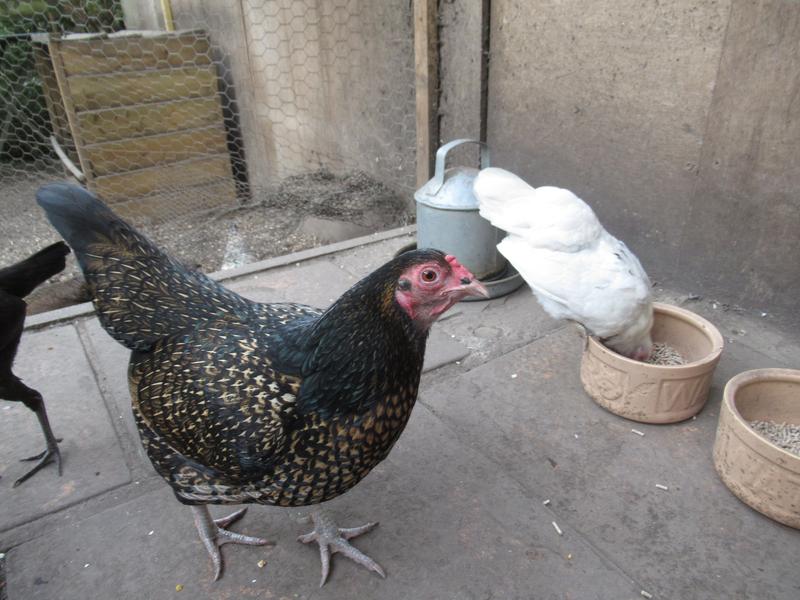 I couldn't believe how much better Flame looked after just her first eye drops. Her eye is obviously now feeling more comfortable. I kind of wish I had gone sooner but I am just glad that I went when I did. Hopefully Flame is now on the mend.