Today Spangle settled in the nest box again. A few times she had a false alarm and would come out of the nest box shouting and I would check and there would be no egg. The next time she came out shouting she had finally got her first egg of the year laid. Well done Spangle!
Spangle's egg had slight streaks of blood on it but this does sometimes happen on the first egg, especially when it has taken a long time to be laid, so I am not worried.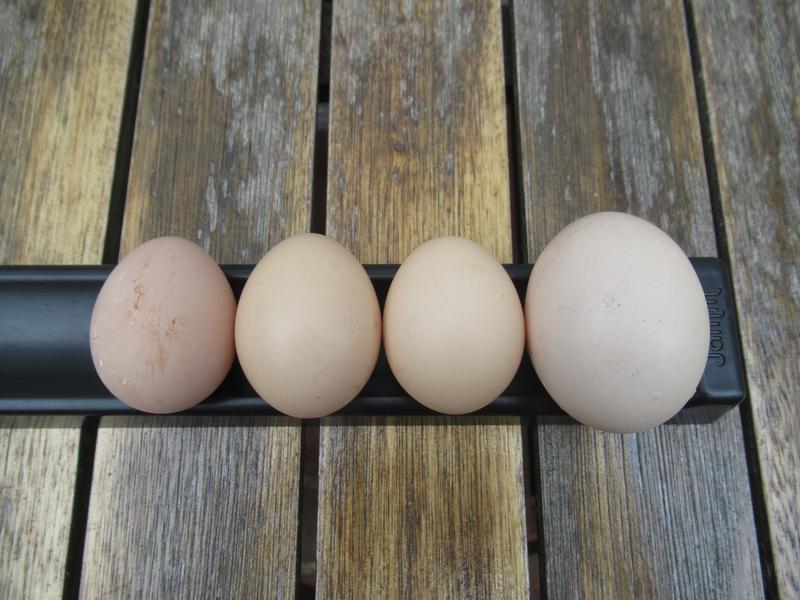 Flame's egg is on the right, Salmon's egg is second from the right, Marmite's egg is third from the right and Spangle's egg is on the left with a little streak of blood on the shell.
At the same time as Spangle laid her first egg of the year Smoke gave up being broody. I felt that Smoke was getting ready to come out of broodiness as she had been coming out of the nest box more often and staying out for longer over the last couple of days.
It has been exactly two weeks since Smoke went broody. Today Smoke stayed out of the nest box all day. I wondered what she would do at bedtime as I had been lifting her every evening from the nest box to the perch in the chicken shed.
I went up to check after dusk and was very pleased to find Smoke on the perch in the chicken shed. Hurrah! That means Smoke is definitely finished with being broody.
After a bit of break Smoke will start laying again which will be great as she is our best layer. Well done girls!