Yesterday was our wedding anniversary ( Tuesday 12th May ). It was also my grandson's third birthday and my new grandson ( his sibling ) is now three weeks old.
We have been coping with the lock-down well but the one thing I really miss is visiting my three year old grandson and being able to hold my new grandson. I will never get to hold him as a new baby.
However his birth went smoothly and they are all well and happy so that is the only thing that really matters. My eldest son has been sending me photos from the moment of new baby's birth and we have kept in touch with google hangouts so that I could watch the new baby as I chatted to my son.
Yesterday we did a video call on whatsapp so that I could watch my three year old grandson open his birthday present from us which we had posted to him. It was lovely to see him and chat to him.
We are lucky that during these difficult times we have the technology to stay in touch and I look forward to a time when I can see them again in person.
As I am the one doing the shopping for us I bought an anniversary card for both of us and said in it that we were lucky that if we had to be locked in we were locked in together.
I bought some posh chocolates and for our evening meal I bought smoked salmon canapes as a starter and cooked ribeye steak, mushroom and chips.
My lovely husband surprised me with a home made card and some wild flowers from the allotment.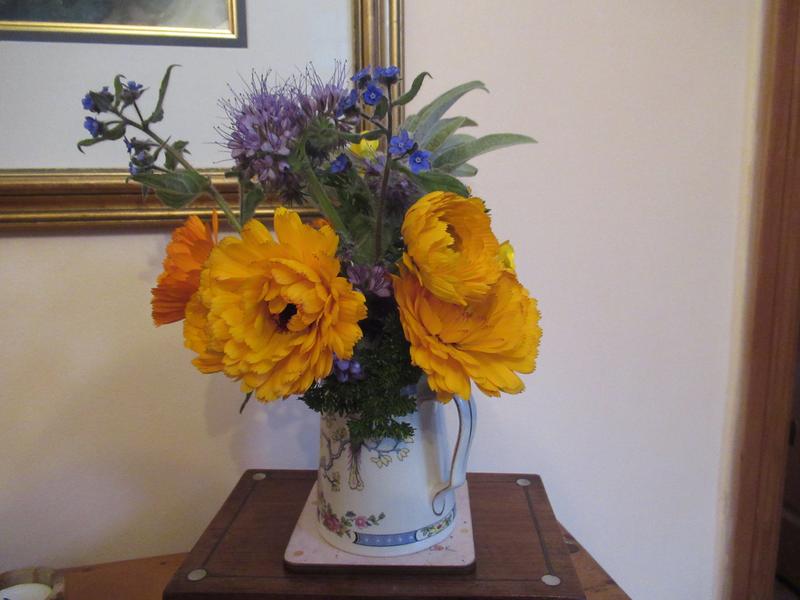 It was lovely and just shows how we can still do special things in very simple ways.
We are all having adjust to these strange times and must make the best of what we can. It was a happy day.