Yesterday we harvested from the allotment. We knew that after two days of rain the runner beans would have gone mad.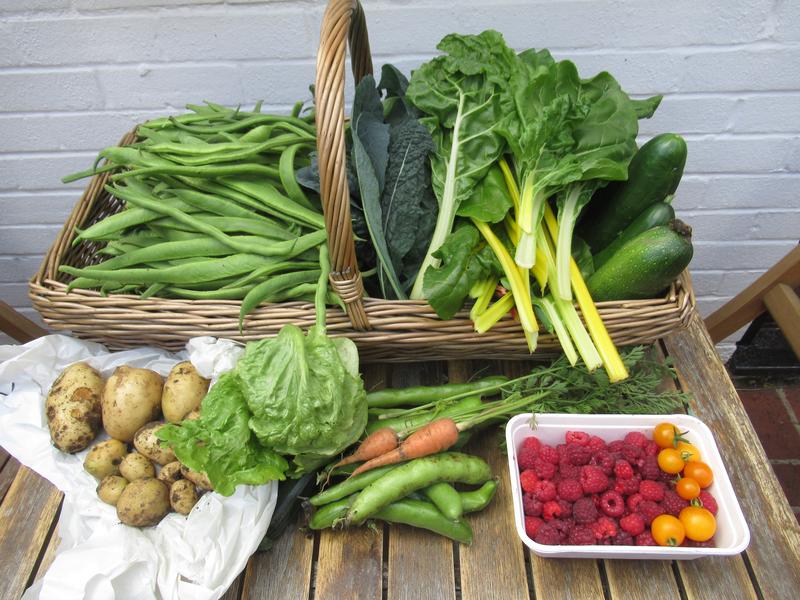 True enough there was a huge amount of runner beans. Our two sharers of the allotment didn't want any runner beans as they had already picked loads a few days earlier.
We actually have enough runner beans from our garden veg plot to supply all that we can eat without freezing them. However we have been giving allotment runner beans to all our neighbours and our next door neighbour said that her mum would like some too.
With that in mind we picked all the beans that were ready as otherwise they would get too big and then are not as nice. We will give these away and leave our two sharers to take the next ones.
There is plenty of black kale and rainbow chard from the seeds I had for my birthday. The chooks love the chard and as I give them daily greens it is saving me from buying spinach for them.
There are courgettes, cucumber and gherkins. The raspberries have slowed down now but I picked what there was. The carrots were just to thin them out and although tiny they were just what I wanted to add crunch to last night's salad.
The broad beans were the first to be ready and the potatoes were the first we have dug up to see how they are coming along. There are lots of big tomatoes but none are ripe yet but these tiny yellow tomatoes were falling from the plants.
We took one lettuce but on opening it up it was full of bugs so the chooks will get that too.
Overall we are really pleased with how well everything is doing but we are getting way too many runner beans! We had intended to only plant one row this year, but T couldn't resist planting a second row, as the beans were free as we harvested them from last year's plants.
There is also broccoli and cabbages, onions and garlic, carrots and parsnips, beetroot and artichokes and sweetcorn so plenty more to come. T has also planted pumpkins to see if he can grow a giant and we have a wildflower bed and sunflowers. In future years we will also have asparagus when the plants mature.
Plenty of produce for all of us and the neighbours too.