We went to the allotment this morning to pick some produce. There is so much of everything at the moment.
T and C were already picking produce and T picked a small posy for me from his allotment flower bed which was so sweet. He had planted dahlias around the edge of his wild flower bed.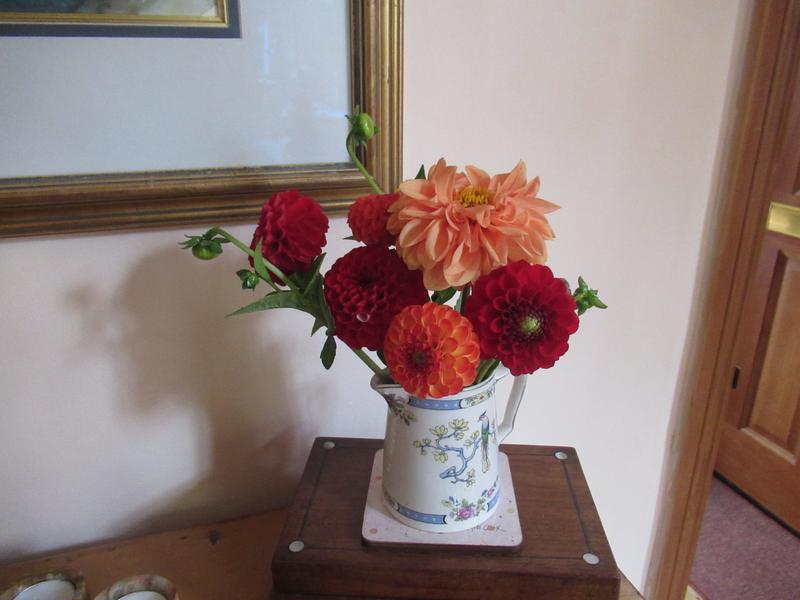 We picked plenty of produce because we share with our next door neighbours each weekend.
We picked enough raspberries for our dessert at lunch time today and they were delicious. We also picked sweetcorn, red cabbage, carrot, beetroot, red and white potatoes, red and white onions, pumpkin, courgettes, kale, chard, tomatoes and NO beans.
C had taken beans a few days earlier and they have slowed down now. We were pleased because we have been over run with them over the last few weeks. There are plenty of flowers on the beans so more to come later and we will enjoy them again when they are growing more slowly.
My lovely husband made coleslaw with some of the red cabbage and carrot and we will have a variety of veg for Sunday dinner tomorrow. Some of the chard will go to the chooks.
Only a few sweetcorn had ripened so we shared them out between the three of us allotment sharers and all the ones that had only got a little bit of corn in them T gave me for the chooks so they are going to be in for a treat.
We have had so much more produce this year than last year. It is so good not to need to buy any veg at all and flowers in doors are an added bonus.