Today is two days after the Boxing Day eggs. There were no eggs yesterday. This morning Smoke settled in the favourite nest box. A while later I heard her shouting and knew that she had laid her egg. Smoke was shouting her head off.
When I checked the favourite nest box I found Ebony in there. I realised that Smoke was still shouting because Ebony was sitting on Smoke's egg. This always happens if any girl sits on another girl's egg. I lifted Ebony and retrieved Smoke's egg.
When I next checked the run Ebony was back out and there was Ebony's egg in the nest box. It was a bit bigger than her previous egg which was what I expected.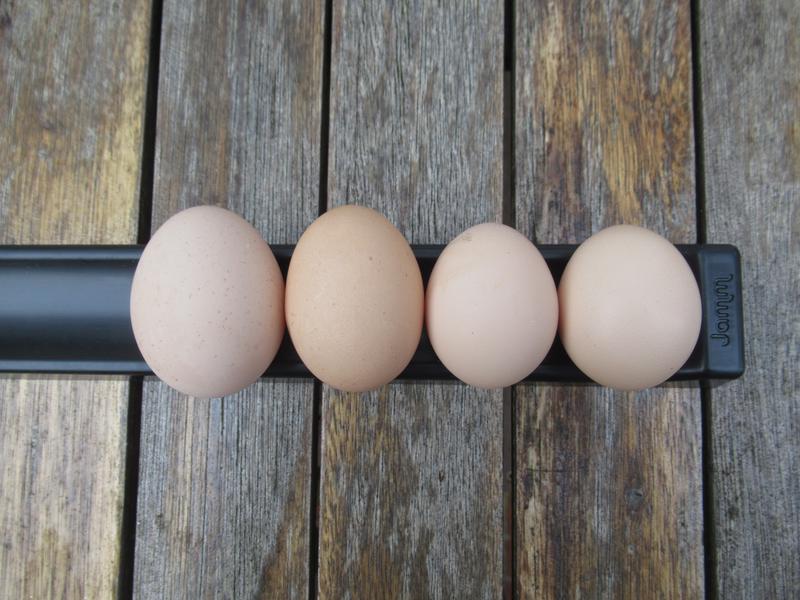 From the right is Smoke's boxing Day egg then today's egg. Next is Ebony's Boxing Day egg and on the right Ebony's egg laid today.
Ebony's egg today is fatter and paler than her first December egg. It seems as if Ebony is going to continue to lay. We have only ever had eggs in December from first year girls and from Smoke so this is very unusual.
I have no idea why Ebony is laying in December but all eggs are very welcome. These girls are often able to surprise us!