This morning both Shadow and Sugar were very vocal. Sugar was as vocal as Shadow is when she is just about to lay and she was looking in the nest boxes too. I was pretty sure that Sugar was about to lay her first egg.
Smoke is broody after laying twelve eggs in nineteen days.
When I checked back on the girls Smoke was sitting on two eggs. I deduced that they were Shadow and Sugar's eggs. I was disappointed that I hadn't seen Sugar sitting in the nest box. It's so cold at the moment that I haven't been in the run so frequently.
The size and shape are a good indication though. Smoke's eggs are large for a serama and round. Shadow's eggs have remained quite small and are also round. The mystery egg was in between the size of Shadow's and Smoke's and was more oval in shape and also had the tell tale streak of blood on it.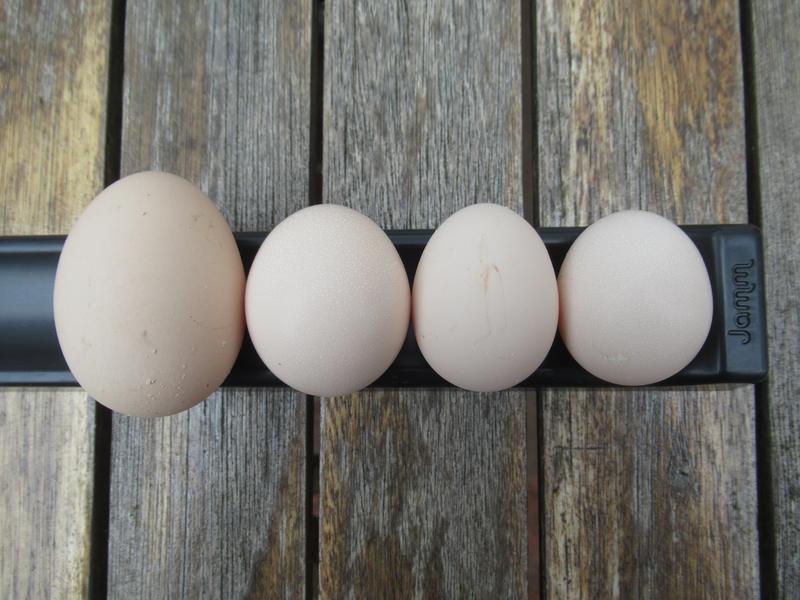 On the left is Flame's egg then Smoke's egg, next is Sugar's more oval shaped egg with a little blood streak and on the right is Shadow's egg.
I hope to catch Sugar in the nest box next time but this egg is quite different in shape and that along with the blood streak makes me sure that it belongs to Sugar. There are also no other girls laying at the moment.
This is three weeks after Shadow started laying. Well done Sugar!