A few days ago my husband called me into the garden to see a mouse that was in one of the bird cages that holds square fat blocks.
I got my camera and held it at arms length and randomly snapped some photos. I didn't want to get closer as I didn't want to disturb the mouse. The little mouse didn't seem bothered by me. Only one of the photos was properly in focus though so I am only showing that one.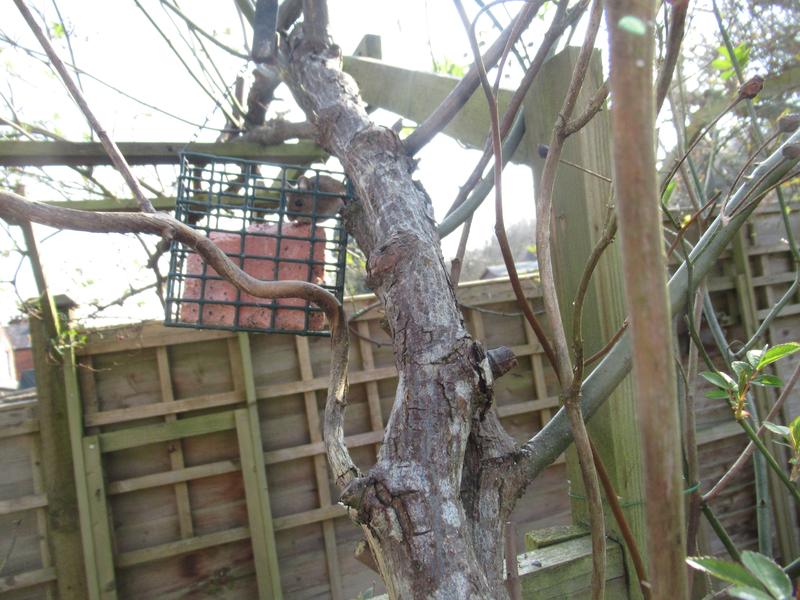 Little mouse was having a good feed.
In other news Shadow has turned out to be a good layer of little, round, eggs. She is laying two days out of three. Sugar hasn't quite hit her stride yet and is laying slightly bigger, oval, eggs once every three or four days.
Salmon and Spangle haven't started laying yet which is quite late as they usually start in February. Smoke is of course broody.
Flame is laying well at two eggs every three days. Ebony is a strange one. Ebony laid two eggs at the end of December. She then laid two eggs in February on the 16th and 23rd and hasn't laid since. Last year she laid every other day. She looks healthy and has a red comb.
Then comes the difficult bit. Marmite is still the same and I am finding it a real struggle to know what to do for her. I have hope every morning when I give sunflower hearts and late afternoon when I give corn. I sprinkle some in front of Marmite and she eats them but won't compete if another girl moves in. She then sits with her eyes closed as if just eating has been an effort.
At other times Matmite is preening and she will peck at the lunchtime apple. I find it difficult to make the decision to have her put to sleep while she is still eating but it is like she is in slow motion. She does everything very slowly and doesn't move very far. She is actually remaining no better but no worse.
This makes it difficult for me to make the decision. I know that Marmite won't get better and I don't want her to suffer but this is so difficult. I keep thinking that I will leave it just one more day but I know that I must act soon.