Yesterday was the second time this year that we had six eggs from our seven girls. The first was on 28th March and this time on 21st July. On both occasions it was Salmon who didn't lay.
Salmon wasn't laying in March after her, soft shelled egg, experience and she isn't laying at the moment after her brief broody spell.
It was a very hot day yesterday and I was sitting in the shade with a book. The garden is looking so colourful with the day lilies being the best they have ever been due to the clumps growing bigger and the red of the crocosmia in the foreground is framing the view beautifully.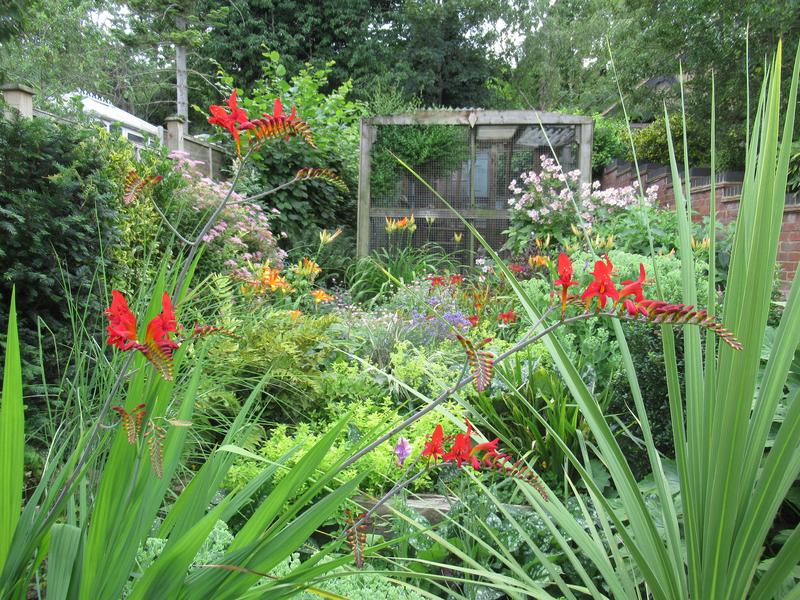 Anyway back to the chickens. I sometimes think there is something hormonal that passes between chickens causing them all to want to lay on the same day, at the same time and of course in the same nest box!
Being a hot sunny day all our neighbours were in the garden and I was very much aware how noisy the girls were being. The little girls all wanted to lay at once and were all shouting.
Sugar laid first then Smoke and Shadow wanted the same nest box. I had been checking on them and Shadow was in the nest box and Smoke was shouting and she is a very loud girl. Then I heard Spangle shouting and I checked again. Smoke had forced Shadow out of the nest box and Shadow had laid her egg on the patio just outside the nest box. Sigh!
Next time I checked Spangle was in with Smoke which was brave of her and both girls had just laid.
Straight after that Flame and Ebony both wanted to lay. Ebony would shout when Flame was in and then Flame would shout when Ebony was in and they were constantly changing places. They too have a very loud shout with Ebony being the loudest of all.
I kept worrying about what the neighbours would think and was constantly going up to them to try to quieten them.
It was so hot that both bigger girls were open beaked and panting in between shouting. I tried giving cooling cucumber, tomato and grapes to cool and distract.
At last it went quiet and I checked again and both bigger girls were in the nest box together.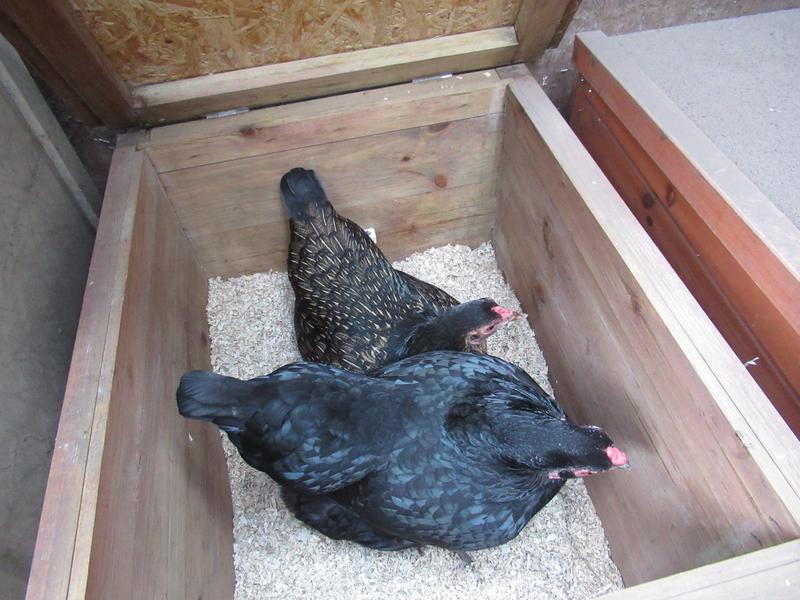 They didn't look too thrilled to be sharing and it can't be great in the heat. Soon after they both got their eggs laid and peace returned once more. Phew! Thank goodness that was done for the day.
It's probably just as well that we don't have many, six egg, days. All was peaceful today with just three, little girl, eggs.