Yesterday the breeder was back from her break and I rang her for advice. I feel much better now we have had a chat.
She said that Autumn had been through so much change after being put in a box and travelling to me and then being put in a new environment. She said that the fact she is still active, upright and moving around means that she is fine. If she wasn't eating and drinking at all she would be looking very poorly by now.
She said that by trying to help her I have probably overwhelmed her and have been giving her even more change to deal with. She told me to put her back in her corner of the run where she can see the other girls as she is used to being surrounded by lots of chickens. She said she is used to water and pellets in a dish so stick with that and don't confuse her with lots of alternatives.
I said that the only thing I have seen Autumn eat freely is chopped spinach. She said that's fine just put chopped spinach on top of her pellets and if she picks it off the top that's fine and she will go back to the pellets when she is hungry.
I said my main concern was that there is so little poop from her. She said in hot weather, as we have been having, they sometimes have a loss of appetite but she has never seen a chick starve themselves to death. She said I need to be more hands off and stop worrying. She asked me to call back later to give her a progress report but I couldn't get through so will try again today.
I have done as she asked and Autumn did take the chopped spinach from the top of the pellets but later in the day I saw her pecking at the pellets. I am still not seeing her go to the water. There is still very little poop and it's dry but Autumn is active and looks happy so I will try to stop worrying.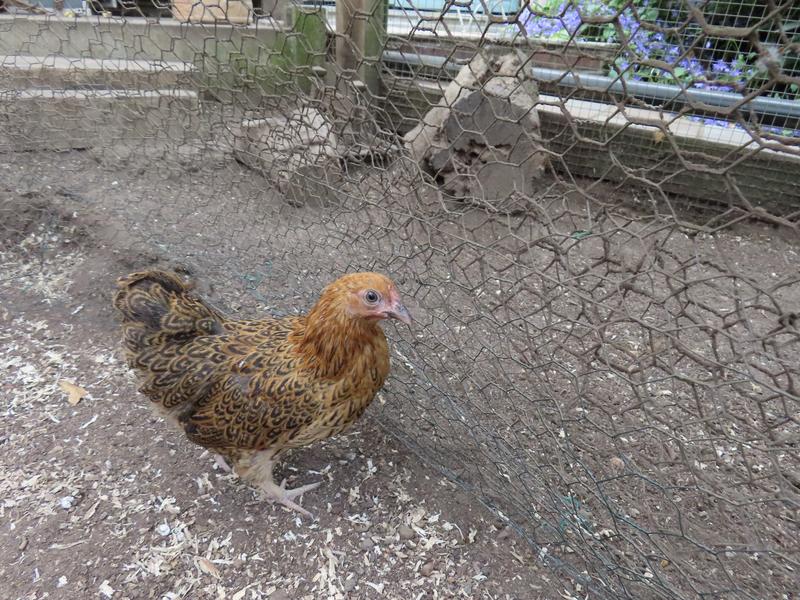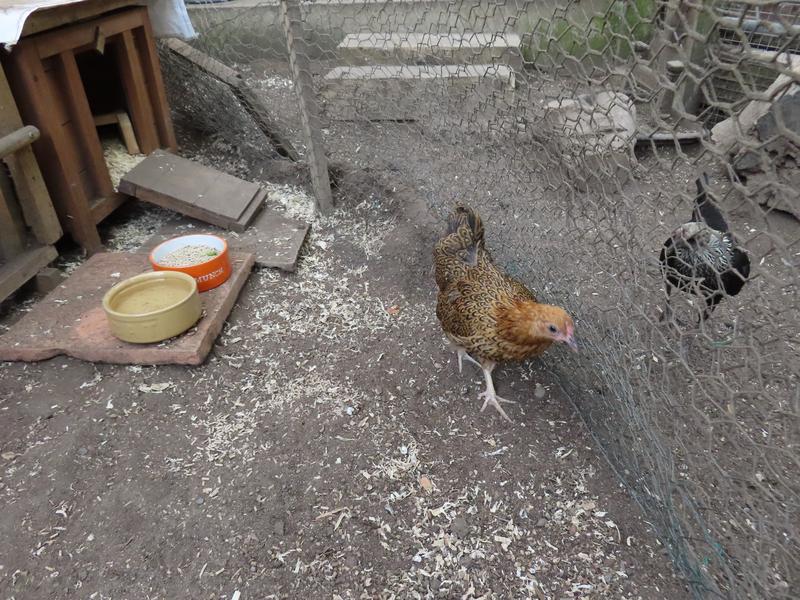 In other news I am now going to break Sugar out of her broody spell. Gold has also gone broody but she won't stick with it for long. Sugar though, will stick with it for a very long time if I don't break her out of it. Sugar has been broody for a week but up until now I was concentrating on Autumn.
I put Sugar in the broody crate last night and will continue as usual to return her to the run in between the other girls laying, when the nest boxes can be closed. I will put her in the broody crate while the girls are laying and overnight.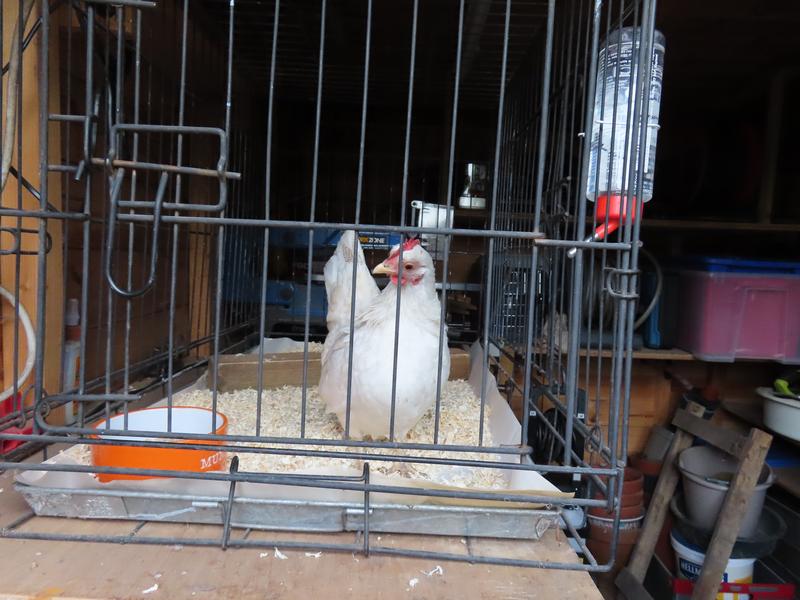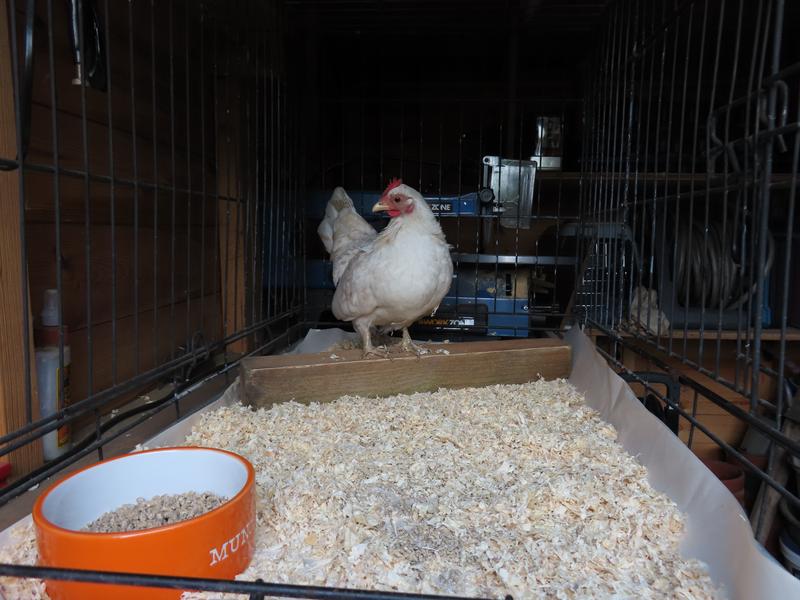 The free standing perch that I usually keep in the crate is in Autumn's little coop. I found that she liked the perch and as she is going to be in the little coop for a while I thought it was a good idea for her to have a perch in there. It fits at an angle, like this makeshift perch for Sugar, who will only be in here for a few nights.
And in more other news I have resolved the camera issue. I finally did what I should have done before buying it and called my eldest son and I.T. guy, Steve, for advice. I didn't call before buying it because I didn't want to bother him and thought I should be able to sort it out myself. He said in future call him first.
He said the camera I bought is totally not fit for purpose and he will help me return it. He took the code on my old camera and ordered me the up to date equivalent to arrive the next day. It is very similar to use as the old camera and is a breeze compared to the one I recently bought. All today's photos are taken with the new camera.
So to finish off this post I thought I would take a few up to date photos of Mango and Cloud.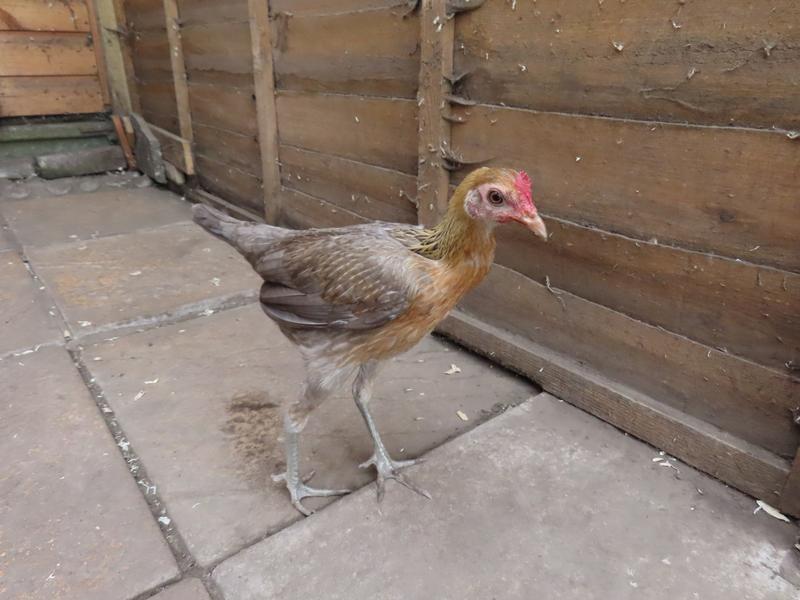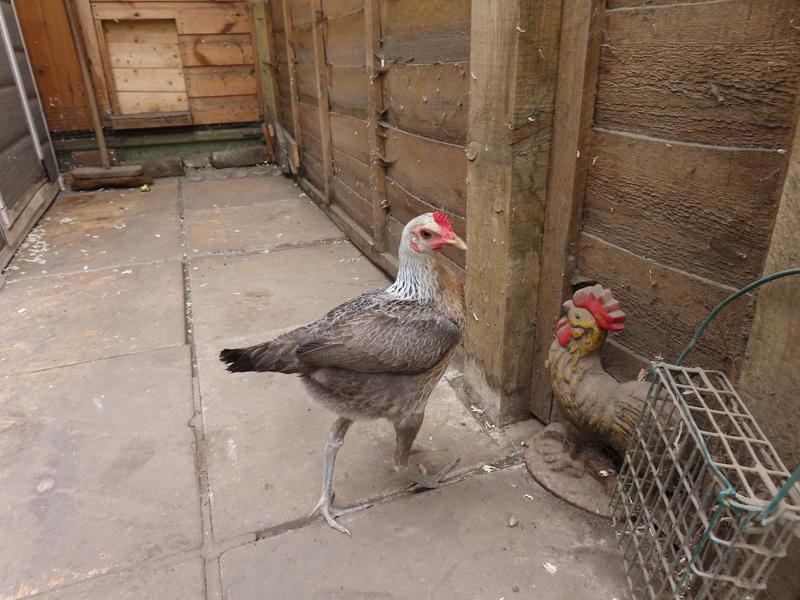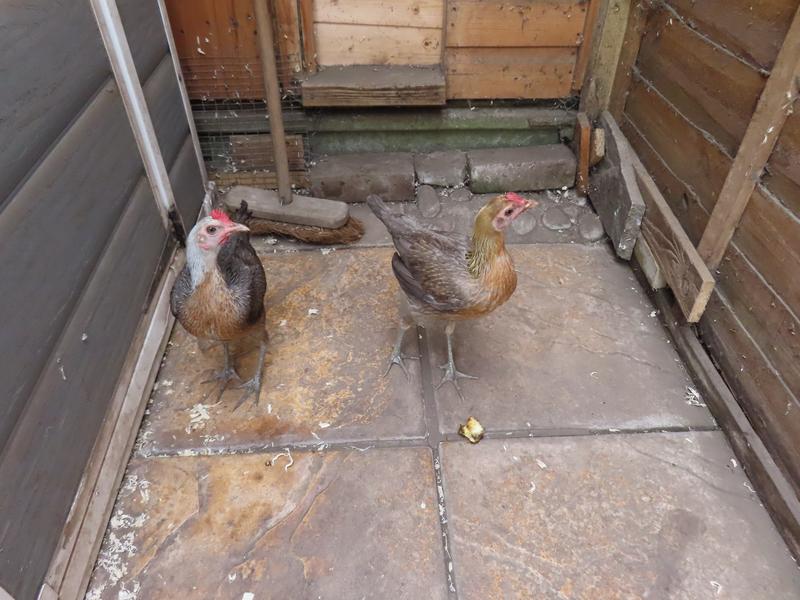 They were together in this corner because they had taken the chunk of apple here to peck at away from the other girls. These two girls were a breeze to integrate into the flock and are doing really well.
Yesterday afternoon when the nest boxes were clogged up with Sugar and Gold these two laid their eggs at the same time in opposite corners of the chicken shed. Well done girls!