Diamond seemed to improve while I was worming the flock and so I thought that her problem may have been down to worms. However as soon as I had finished worming the flock she went down hill again.
Her breathing became laboured once more and the hiccuping noise much more frequent. While sitting her bottom was bobbing up and down and she was breathing through an open beak. She was also making a groaning sound from her beak. She would sometimes shake her head as she made the hiccup sound and sometimes closed her eyes in between.
We had had her for exactly three weeks at this point. She didn't look right from the first day and has always had a mucky bottom. I treated her with tylan for five days and it had no effect. I then treated her with flubenvet for seven days and she seemed to improve but then worsened again on the eighth day.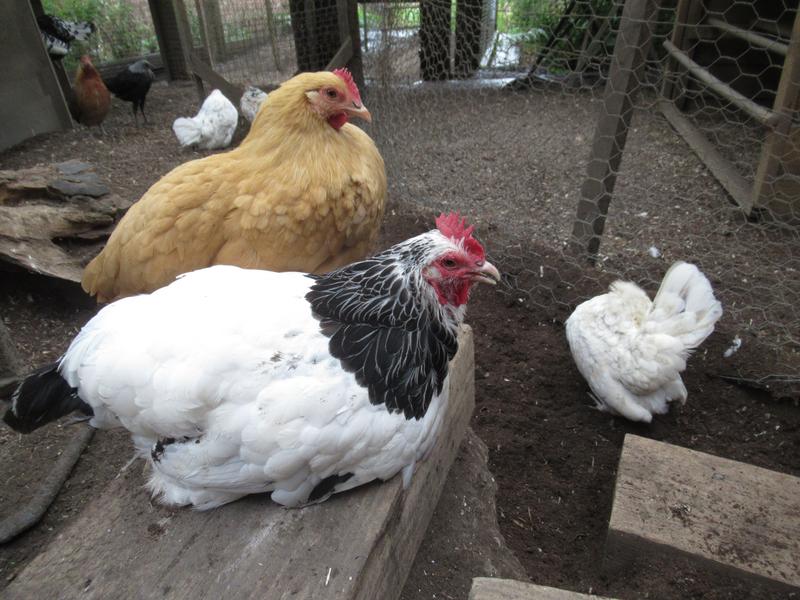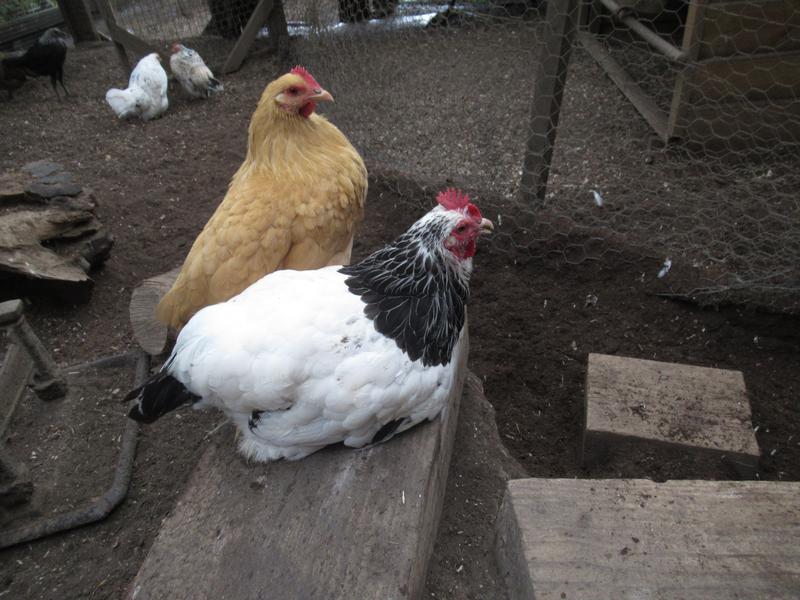 Saffron was keeping her company.
At this point I was back to thinking that perhaps it was a heart problem after all.
Diamond then stood up and did a huge poop on the wooden block. I cleaned it up with kitchen paper and saw that it had a worm in it! I then wondered if she was so overloaded with worms that seven days of flubenvet hasn't been enough to rid her of them.
I immediately mixed up dishes of mash with flubenvet and watched over the girls to make sure that Diamond had a good go at it. I thought that if she improved again I would know that worms were her problem. She must have come to us full of worms. I have never before found worms after seven days of treating.
I thought that I would treat for a further seven days and then again three weeks later as I had planned. I am determined to get rid of the worms.
By the following day her hiccuping sound had become more frequent and the groaning sound as well. She was also shaking her head more. We wondered if the groaning sound was fluid on her lungs and I researched if a heart problem could cause fluid on the lungs. It said that yes it can. I was back to thinking she has a heart problem and she also had worms but I wasn't happy about the head shaking as well.
I also researched chickens being overloaded with worms and that too can cause the groaning sound and head shaking as they try to rid themselves of the worms. The more I keep researching the more I find that both heart problems and an overload of worms have very similar symptoms.
If I assume that Diamond has both a heart problem and worms then the best I can do for now is to try and get rid of the worms.
I am writing this post as I go along and I am now on the tenth day of giving flubenvet. Once again Diamond has improved a bit. She is no longer making the groaning sound and is making the hiccuping sound less often and has stopped shaking her head.
Doing further research I found that gape worm causes neck stretching, shaking the head, open beak breathing and a gurgling noise, all of which Diamond was doing. It says that gape worm needs double the dose of flubenvet. I think this means a double dose rather than a double length of time.
As a belts and braces approach I am going to continue giving for the double time of two weeks but am also giving Diamond a double dose by individually giving her extra. I am putting some powder on chopped tomatoes in one of the small round dishes and holding it in front of her beak. Being bigger and taller she can take from the dish while the rest of the girls can't reach.
I had now been giving the flock flubenvet for eleven days when I had a bit of a light bulb moment. I realised that I don't need to continue with the whole flock but just need to give a double dose to Diamond each day.
I had been thinking that Diamond was getting one dose along with the flock and her extra dose on chopped tomato held in front of her beak. I decided to continue from tomorrow by just giving Diamond the powder on chopped tomato twice a day to give her the double dose. I can't do a double dose in one go as it gets too hard to keep the other girls away and then Diamond gets fed up and moves away.
Diamond is looking better in every way except the squeaking hiccuping sound. She no longer has a mucky bottom. I think this means I am getting on top of the worm problem but I still think the sound points to a heart problem. I will be more certain of this if she is still making the sound once fully wormed.
I will do five more days of the double dose for Diamond only and then as planned will do the whole flock again in three weeks time. I guess only time will tell.