Gold has a habit of trying to join me as soon as I open the chicken gate. I pick her up and put her back inside the gate. For the last week she has been squatting every time I do this. I wondered if she was getting ready to lay but thought it was a bit early in the year.
Gold has a lovely red comb and has become a bit more vocal too. This morning Gold went into each nest box in turn and scratched out some shavings. I have recently cleaned out the nest boxes and put in fresh shavings ready for spring egg laying to begin so I thought that may be attracting Gold to them.
This afternoon Gold was missing so I checked the nest boxes and sure enough she was settled in the nest box by the gate. I came back in for my camera but by the time I got back out to the chicken run she was already laying her egg.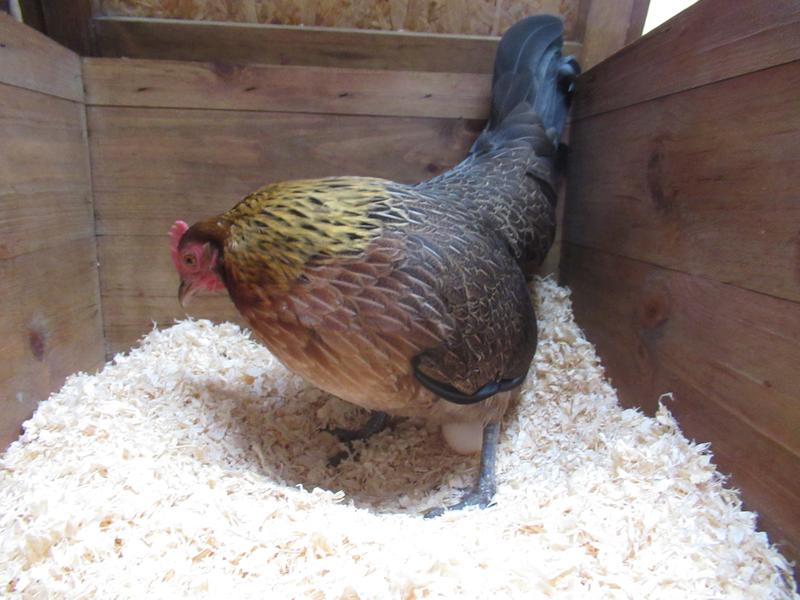 It is amazing how often I catch the girls actually laying. Her egg is long and slim. The girls usually start laying mid February to March so I wasn't expecting eggs just yet. Gold is a first year girl so that may be why the early start. She stopped laying at the end of August when she had a partial moult.
Snowflake has also become more vocal and has a red comb but she continued to lay until the end of November when she had a partial moult. It will be interesting to see if Snowflake starts laying soon too.
Storm only has a three month laying season which is May, June and July so I don't expect her to start any time soon. Diamond is still dropping feathers every day so I am not expecting her to start yet either. It's a good job she is a very fluffy girl.
Sugar usually starts laying half way through March. Salmon didn't lay at all last year so I think she may be finished and Spangle only laid four eggs so she too might be finished. We only got Dot in May so I don't know how early in the year she will start.
It is interesting to see when the girls start laying again and it was quite a surprise to see Gold lay today. Well done Gold!