During one of the recent hot days I decided to give the girls some frozen melon to help them cool down. Dot is the only girl that struggles a bit with the heat and will have her beak open while panting. The rest of the girls haven't seemed bothered but they all enjoy a bit of frozen fruit.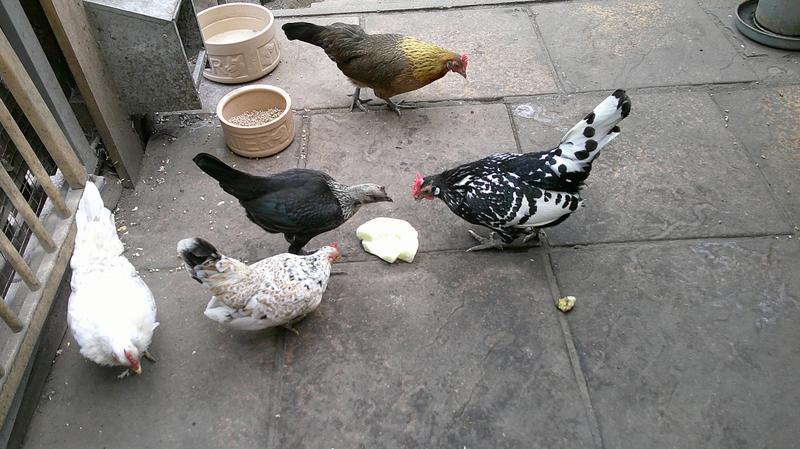 The new girls are not yet confident enough to join the flock but they will have some when the main flock have moved away.
This is the first photo on here from my new camera. I know that I have made a mistake with this camera. It takes a second to focus by which time the girls have moved and this is the first usable photo I have managed among loads. My old camera was instant. Also the shape, instead of more or less square, is rectangular which means it's fine for a shot like this but if I want to photograph just one girl she will be in the middle of a lot of empty background.
From a week of practising I have only managed to get this one photo that I am satisfied with and have managed to upload successfully. I am not happy with the camera situation but haven't yet resolved what to do about it in the long term.
In other news the new girls have settled in really well. The last two evenings they made it to the chickens' patio at bedtime so are going in the right direction. The night before last Mango actually went in to the chicken shed on her own but Cloud refused to follow and in the end Mango came back out again.
I then put them both in and Mango made it up to the perch. I could see that Cloud wanted to jump to the perch but I think it had got too dark so I picked her up and placed her next to Mango.
Last night we were out until just before the pop hole closed. Again the girls were just outside the chicken shed. I managed to direct Mango through the pop hole just as it was closing. It was a bit dark and stormy which had caused the pop hole to close fifteen minutes earlier than usual which had caught them out.
I directed Cloud back to the chicken shed and held the door open for her and was pleased that she then went in. I then perched both girls. They are not far off getting the hang of it and I am sure that it won't be long.
The other thing that they need to get used to, or for the moment Cloud needs to get used to, is laying her egg in the nest box.
Cloud has now laid four eggs. On the first day they were in their separate part of the run and she only had the nest box there to lay her egg in which she did. The second day I had mixed them but could see that she wanted to get back to "her" nest box so I put them back in their part of the run and Cloud went straight in and laid.
Cloud then missed a day. The next day the flock were mixed and I could tell Cloud wanted to lay as she was very vocal and was running around looking for somewhere to lay. I again closed her and Mango in their part of the run. This time though Cloud didn't want the nest box and continued to look for somewhere else to lay. The next minute she was in the egg laying position over the water dish!
I picked her up and closed her in the nest box just as she laid. Yesterday Cloud was due to lay again but we were out for the day having a Father's Day get together and dinner with family. I decided that Cloud would just have to work it out herself.
When we returned home Cloud's egg was beside the bigger water dish out in the run. What had started off so well seems to have regressed. Oh well, I am sure Cloud will sort it out eventually.