Cloud has gone broody after laying nineteen eggs in a month. Mango has laid twelve eggs in three weeks, she started laying a week later than Cloud. The day that Gold came back into lay was the day that Cloud went broody so it's one in and one out.
I lift Cloud from her corner in the shed and put her in the run. She stays just where I put her until I move her along.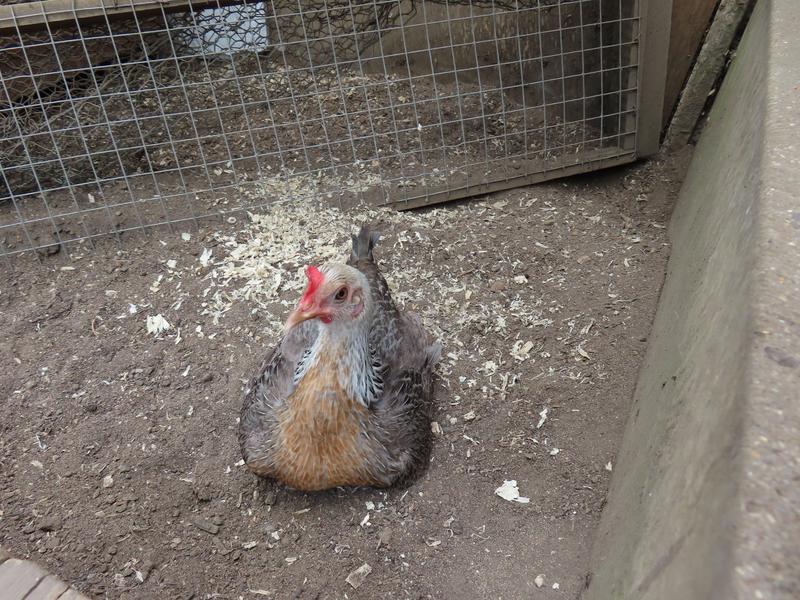 I am hoping that like Storm, Cloud, won't be committed to being broody and I can soon break her out of it. I am closing the nest boxes and chicken shed once the laying girls have laid. Cloud settles in her corner of the shed at bedtime but I lift her to the perch and she stays there.
Cloud and Mango still haven't got the hang of going in at bedtime. I can't understand it because they go into the chicken shed to lay their eggs and now Cloud goes in there to sit while broody and yet they won't go in at bedtime. If I put them through the pop hole they bounce straight back out. They were settling on top of the nest box nearest the shed. I blocked that off to them and they just hung around the patio area.
It doesn't make any difference if I go out before the pop hole closes or after. When I then hold the shed door open for them they go in. I have also tried leaving the shed door open but they will only go in when I am there with them. We have never had girls take as long as this to get the hang of it and I am at a loss as to what else I can do. I had hoped with Cloud going in to sit at bedtime that Mango would follow her but she doesn't.
I am mixing Autumn with the flock every day and she is getting braver. I change the dishes for growers pellets while Autumn is with the flock. I have now seen her eat from one of the dishes while the rest of the flock are elsewhere in the run. She needs three more weeks on growers to bring her up to the recommended eighteen weeks.
If Autumn gets brave enough to eat while with the flock I will put her with them and give the whole flock growers. I just want to be sure that she is able to eat properly. Today I put chopped tomato on the patio area to see if she would be bold enough to join the flock.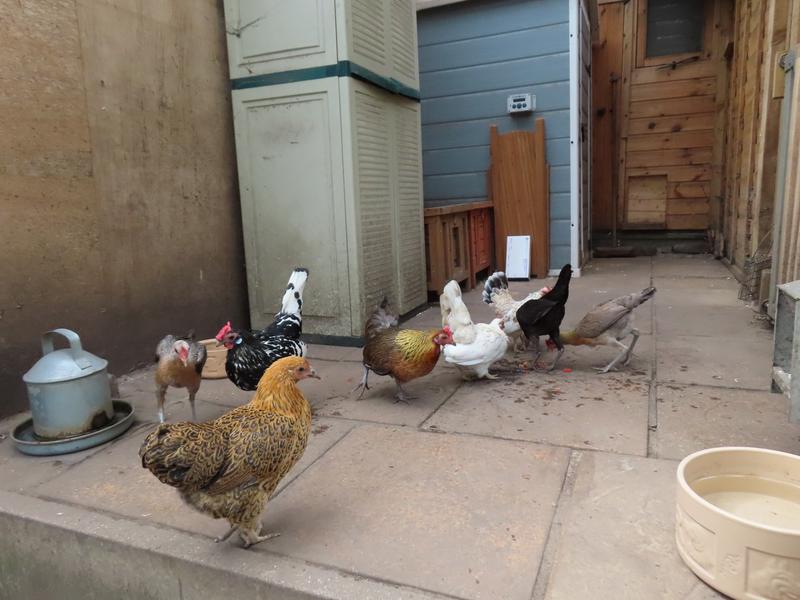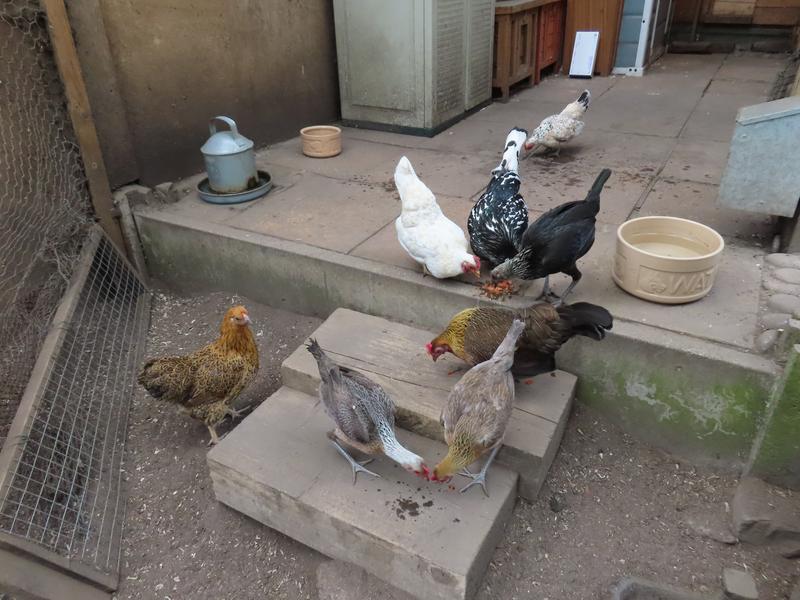 These are my first group photos of all eight girls. Autumn is on the edge of the group but she is getting braver. I am very happy with the progress and think they will all be together soon.
It will be interesting to see if Autumn gets the hang of going in the chicken shed at bedtime. At the moment she still settles in the corner nearest the patio area and I put her in her little coup each night. She may be more likely to go in when she is with the other girls. It would be good if she could teach Mango and Cloud but I won't hold my breath.
I am really looking forward to having the whole flock together.