Morning
Dot and Storm have been laying their egg on the same day recently. Sometimes I lift Storm to see if she has laid and find that she is sitting on both Dot's egg and her own.
This morning I checked on them and found them in the current favourite nest box together. They looked so cute that I had to grab my camera.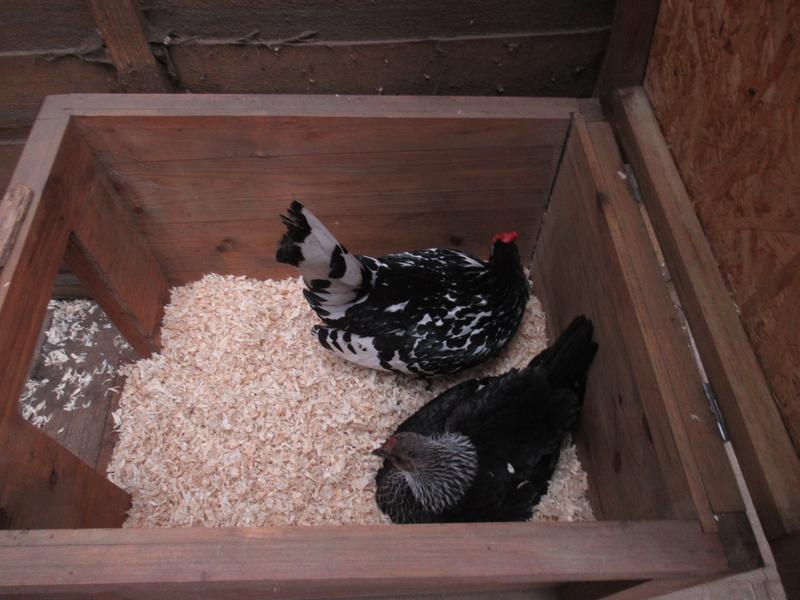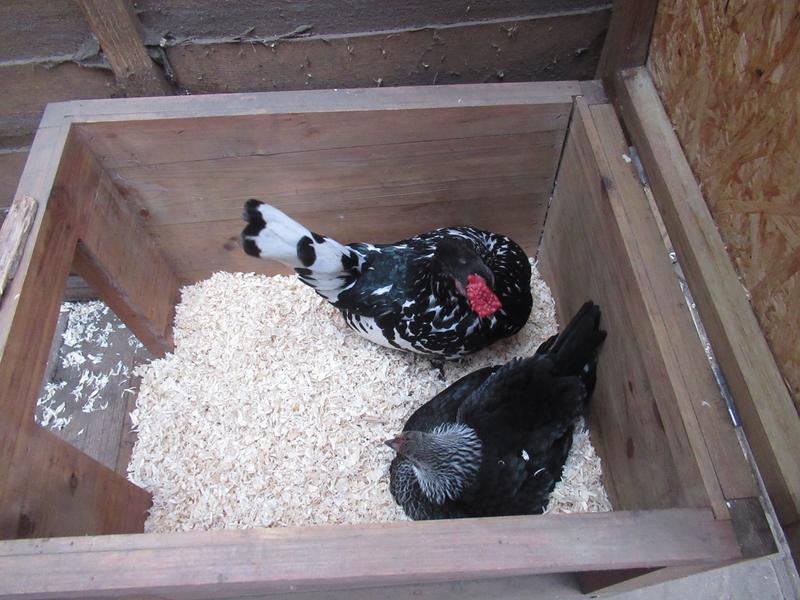 Both girls later got their egg laid.
I have been a bit worried about Diamond because she hasn't started laying yet but I am now thinking that she may be getting ready to lay. Diamond spent all morning hanging around the nest boxes. It seemed as if she didn't know where to go if she wanted to lay. She did look in one of the nest boxes and she did look in the chicken shed.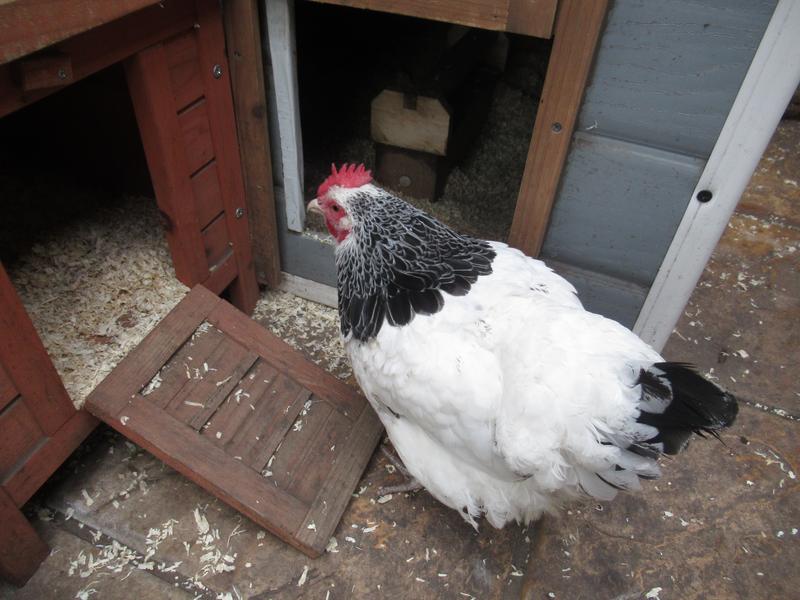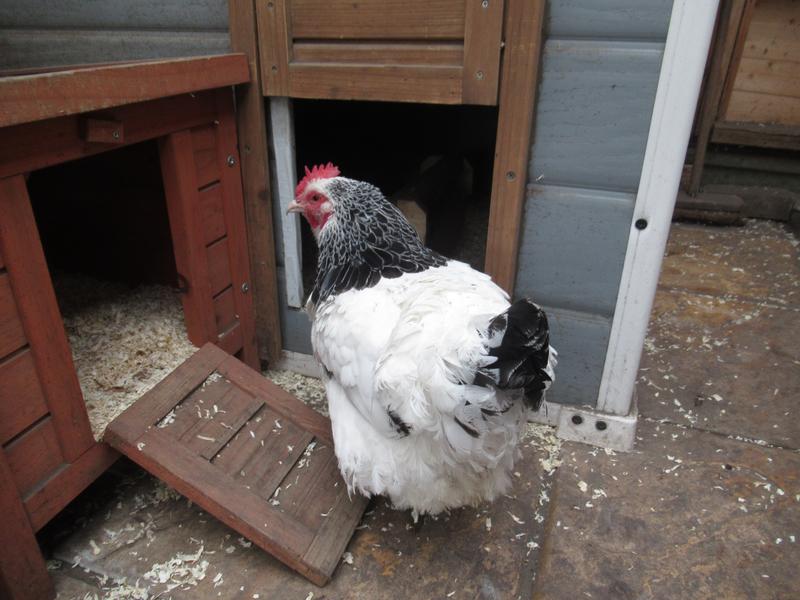 By lunch time Diamond seemed to have given up but I think this is a hopeful sign that she may be getting ready to start laying. I would love Diamond to lay an egg just to prove that she is healthy. She has had a clean bottom since I washed it so am feeling encouraged that she may be okay.
Afternoon
Over the last week I have been thinking about adding a new girl. The flock of six feels small and we only have three girls laying so eggs are not as abundant as they could be.
It suddenly came to me that it would be great to add another Flame. Toffee and Flame both had lovely natures and were good egg layers, non broody and long lived. I rang the breeder a few days ago and asked if he had any of the brown and gold game birds to sell. I was disappointed to hear that he had given up breeding the game birds.
I then remembered that last year I really fancied a black star. In the end I found pipenchick and got Gold, Storm and Snowflake. My friend Jackie, many years ago, had a black star and I loved her and remembered her being quite small. Although not a bantam they are quite a small breed and when I researched weights, a bantam light sussex, Diamond, weighs seven pounds and black star hens weigh five pounds so I thought that now we have one bigger girl another bigger girl would fit in quite well.
Black stars are docile, quiet, hardy, usually non broody and good layers of a good sized brown egg. Their eggs range between chocolate brown and pale brown in colour but I don't care about egg colour as any eggs are good for me.
I researched breeders close to us and found one half an hour's drive away. I rang the breeder and it turned out that he had just one black star left. She is four and a half months old. I asked if we could collect her straight away and he agreed.
I had run out of black/gold names so I decided to name her Star. I put her on the chickens' patio area and she went straight to the food and water.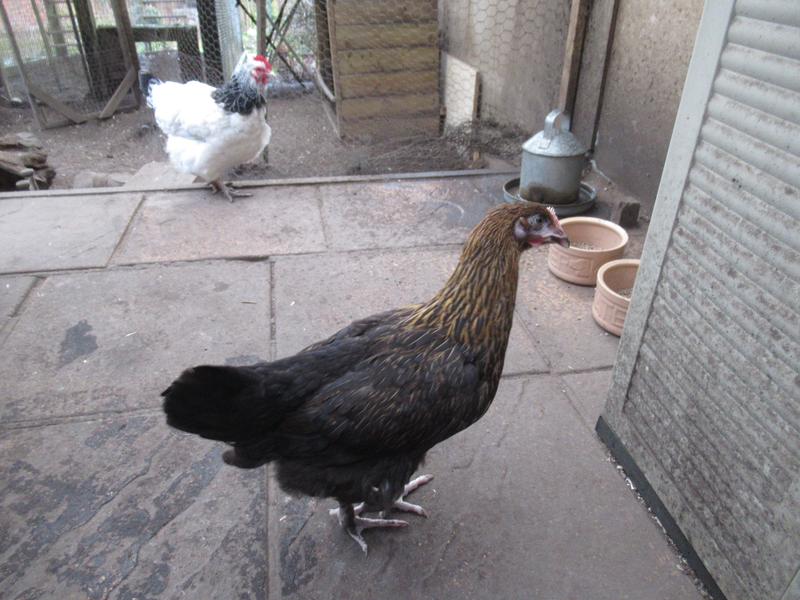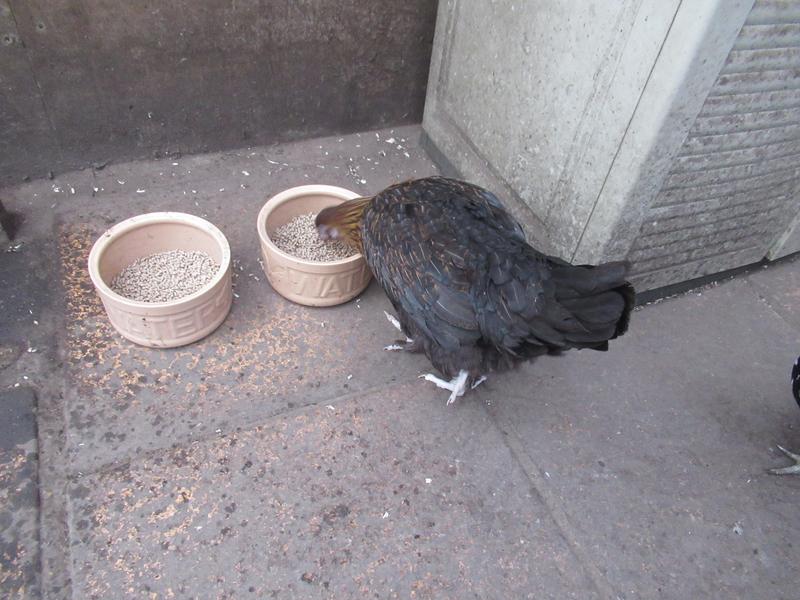 I was really pleased that she found the food and water straight away and that the other girls didn't take much notice of her. She later went in the chicken shed and had a good mooch round and then went in a nest box. I was happy that she had found all the most important things. I wasn't bothered about her finding the run as she will in time and that's not so important.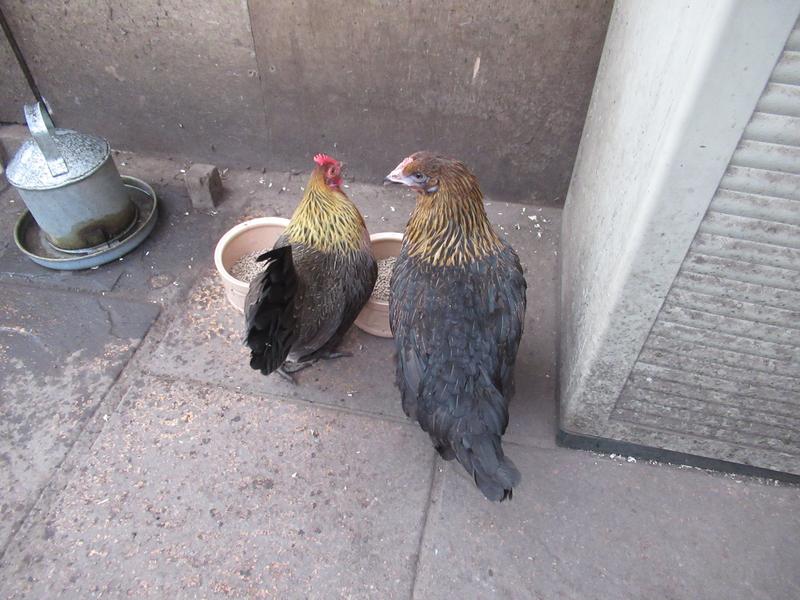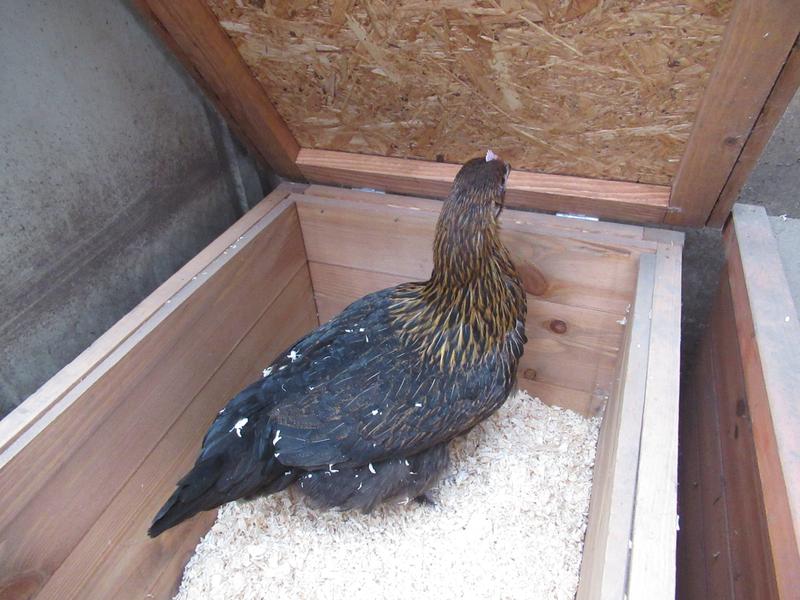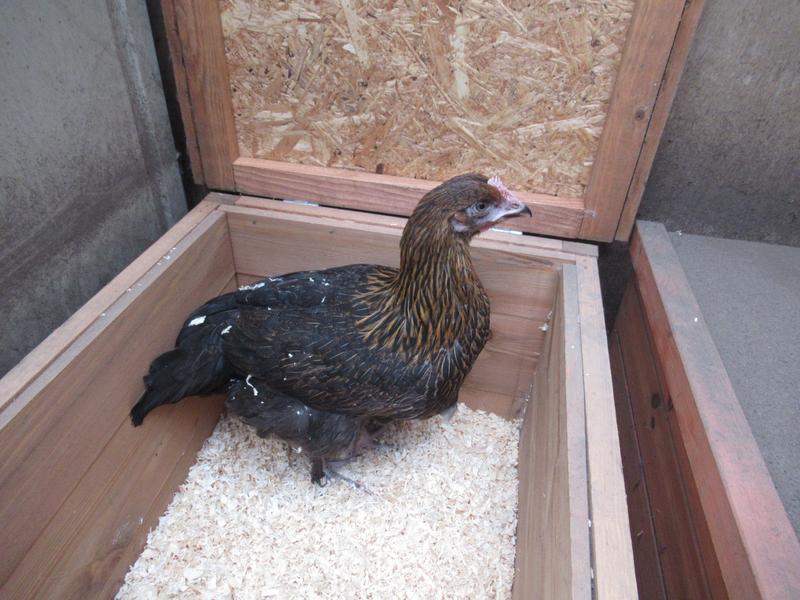 Star didn't seem bothered by me or the camera which is great.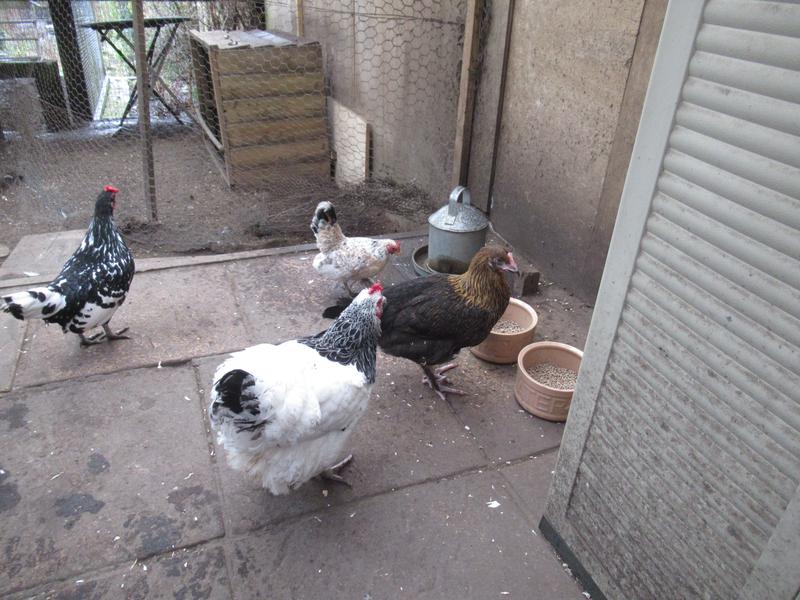 Star has feathers down the side of her legs stopping at her feet. I was sure that when I researched black stars they should have clean legs. I googled it and it says they don't have feathered legs. I'm not sure if they will go as she matures or if she has a bit of something else mixed in her breed to give feathered legs. Either way it is what it is and she doesn't have feathered feet so I am happy with that. I don't like feathered feet because they get muddy when it's wet.
A bit later I checked in again and Star had made it as far as the log. She has very long toes.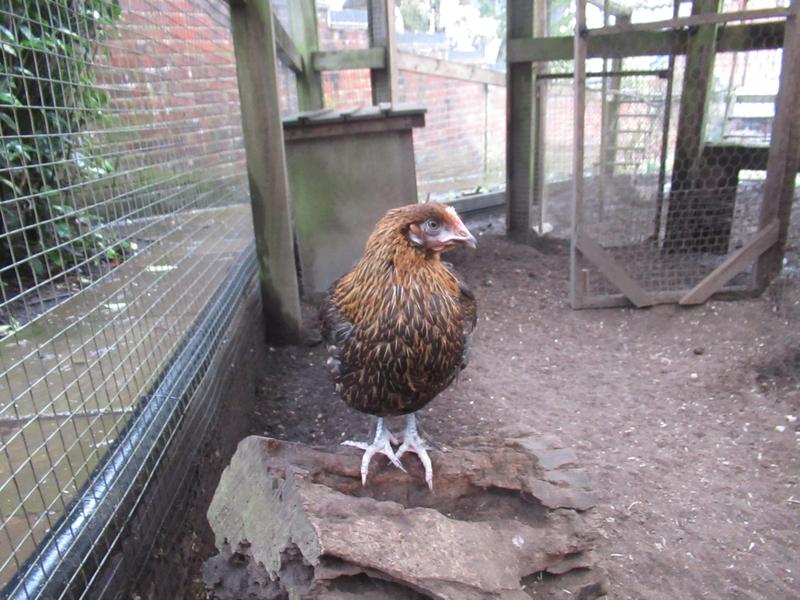 It looks like Star is going to fit in very well. I wondered if she would go in the chicken shed at the end of the day but as she had already checked it out I hoped she would.
At bedtime I checked and all the girls were in except Star. She was looking around by the chicken shed and nest boxes and sounding upset. Then suddenly she was through the pop hole without me helping her. She settled under the girls where she was right in the poop line.
I picked her up and put her on Diamond's perch but she was straight off and settled in the corner by the door. I decided that was fine as she was now out of the way of being pooped on.
I am very happy with Star's first afternoon with us. She seems a bright girl and has got the hang of everything very quickly. I feel certain that now she has gone in on her own tonight she will find her way in tomorrow night.
It may take a while to teach her to perch but for now as long she goes in at night that's all that matters to start with. I am very pleased with her. I am happy with our flock of seven.